Q: How long have you been with MIS Computer?
Ron: Since 1991!
Q: Primary location:
Ron: Chicago.
Q: What department are you in?
Ron: Shipping.
Q: Describe your role at MIS.
Ron: MIS provides me the opportunity to wear many hats. Basically, whatever is needed. One moment processing a time critical shipment, providing a customer with a needed invoice, to selling old stock on eBay. There is never a dull moment.
Q: Where were you born and raised?
Ron: I am a local boy. I was born in Berwyn and lived a majority of my life in Brookfield.
Q: What's your favorite MIS event or memory?
Ron: One of my favorite memories is of the company barbecue events we would have at our old location. We would all take time out of our busy schedules to break bread together. We would still talk about current projects and orders, but personal stuff as well.
Q: What's your favorite memory with a coworker?
Ron: Since I have been with MIS for close to thirty years I have many great memories with many coworkers. The one that comes to mind right now is with Moisés Padilla. It's not just one memory, it's a series of memories. I have had the rare opportunity to watch this individual grow from a young man coming to us from a High School work program to a technical force to be reckoned with. Moisés is just not a guy I work with he is part of my MIS family!
Q: What is the best advice you've ever received?
Ron: Some of the best advice comes from the father of our leader Neal Berz, which was shared with many of us some time ago through an email of reflection: "Don't worry, the sun will rise in the East tomorrow." This is so important especially in these challenging times. We must keep positive.
Q: Before working at MIS what was the most unusual or interesting job you ever had?
Ron: The most unusual job I had prior to MIS was watching a hole at a golf course for a fundraising event one Saturday to see if a hole in one was achieved.
Q: Any tips or advice you can offer from your own personal experience to those that might be struggling during this time?
Ron: You must stay positive and don't take things for granted – I woke up this morning and the rest is gravy. There are so many individuals having things so much worse. We need to see how blessed we truly are.
Q: When I'm not at MIS I like to:
Ron: I love to bang on my drums. I have been playing since 1979. It's a great outlet and makes me a calm individual.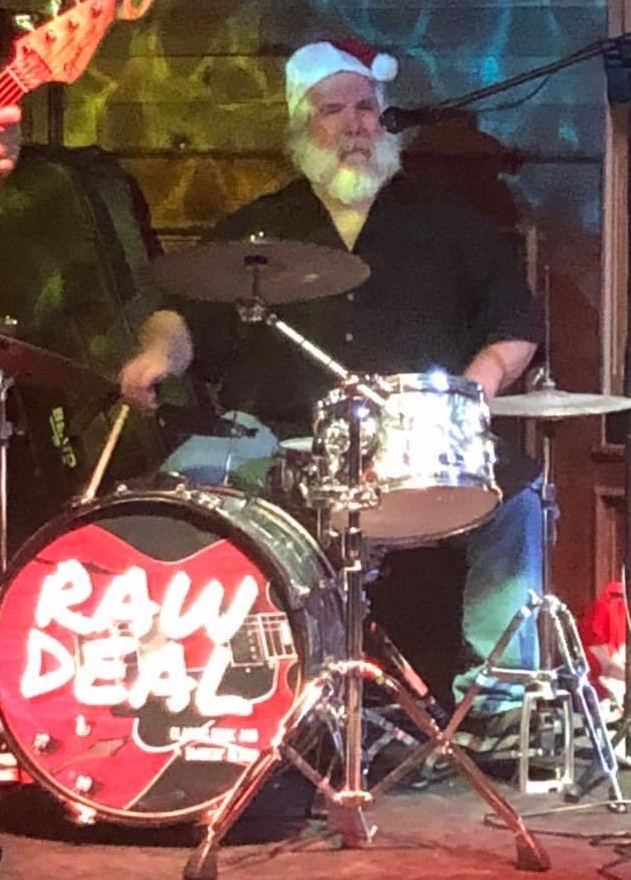 Q: What's your most memorable celebrity encounter?
Ron: On the third floor of our old location there was a show called "The Nude Hippo Show" which was a Chicago talk show. One late afternoon, I had the pleasure of giving Gallagher an elevator ride to the third floor. He had a big package with him, a watermelon I suspect.
Q: Do you have any pets?
Ron: My youngest daughter and wife are a part of a rescue, so I have seen many pets over the years from hamsters to chinchillas.
Q: What makes you smile?
Ron: When my eyes open in the morning. Life is what you make of it.
Q: What's your favorite movie?
Ron: There are so many, but one of my favorites is Back to the Future.
Q: What's your go-to karaoke song?
Ron: Anyone learning guitar has made an attempt at Smoke on the Water by Deep Purple at one point. This is my go to vocal song.
Q: What is the best concert you've ever been to?
Ron: I have been to so many, but what comes to mind is the Rolling Stones. Those guys rocked!
Q: What are 3 items on your bucket list?
Ron: I haven't traveled much, so my bucket list really consists of three different locations (Las Vegas, Hawaii and an Alaskan cruise).
Q: What song always makes it into your workout playlist?
Ron: I need to work out more, so I am just happy with whatever song makes it to my workout!
Q: What are your hopes for our industry?
Ron: To get back on track as soon as possible, but safely.