Q: How long have you been with MIS Computer?
Danni: I started working at MIS after graduating college in 2005.
Q: What is your favorite MIS event or memory?
Danni: So many! But I have to say the many nights "burning the midnight oil" with some of the team at our original Ashland location – swapping stories, enjoying BBQs on the dock, and many laughs!
Q: What was your first position at MIS (if not your current one)?
Danni: My first job at MIS was working as a receptionist in our tech department. Back then we were taking in consumer laptops for warranty repairs and I would greet clients at the desk and set up their warranty claims. After that I moved upstairs to our accounting department to assist with payables and receivables, and then in 2007 an admin position opened up in our sales department. I worked with our sales team until spearheading our marketing department beginning in 2018. Coming up on 15 years of MIS adventures!
Q: Favorite memory with a coworker:
Danni: I have two, actually: 1. The "driveway gig" I had with my coworker Ron in our short-lived rock band. Good times! 2. When I worked in the tech department there was this old lab uniform hanging on a coat rack (lab coat and thick goggles). Well, one day I sneakily put them on and jumped up over the partition and hollered in my best nerdy cartoon voice "My color LCD module is defective!" and the techs (including dept manager at the time Moisés Padilla) stared at me blankly – my joke had fallen completely flat! I slowly slid back down the partition and sat quietly at my desk the rest of the day. A few holiday parties ago Moisés brought up that memory to me and told me how funny he thought it was – all these years I thought I had made a total fool of myself! Makes me giggle to this day.
Q: What's your favorite place for lunch?
Danni: The office will often order from Bella Notte – their Italian salad is da bomb! Now I'm hungry.
Q: What is the most interesting item on your desk/in your office?
Danni: My WWE Raw Women's Championship belt!
Q: What is the best advice you've ever received?
Danni: Don't let perfection get in the way of progress.
Q: What is the coolest project you've worked on?
Danni: Our company rebranding and website – it was a new (and ongoing) adventure for me and it's so rewarding!
Q: Before working at MIS what was the most unusual or interesting job you ever had?
Danni: I worked as a professional actor and singer throughout Chicago and in New York (which led to many an adventure)! Also, during my holiday breaks in college I worked at a veterinary clinic and kennel washing dogs (and sometimes cats – yikes!). I loved working with the animals.
Q: What is something valuable you've learned from quarantine life?
Danni: SO MANY THINGS. Definitely the importance (for me) of having a mindfulness practice, moving your body, and the absolute necessity of getting outside (safely, of course) to take in some sunlight and fresh air. Also, maintaining your connections with the people you love – letting them know you care about them.
Q: When I'm not at MIS I like to:
Danni: Travel, be on or near the water or out in nature, work on my vegetable garden, sing, continue my education, spend time with my husband (we're big pro wrestling fans), and get as many puppy snuggles as I can from our dog Birdie!
Q: What is the best concert you've ever been to?
Danni: Lizzo, hands down. But Radiohead, Bette Midler, The Flaming Lips + Beck are close seconds.
Q: Sport of choice?
Danni: Hockey – go Blackhawks!
Q: Do you have any pets?
Danni: Yes – a sweet 2 year old rescue pup named Birdie, and our 12 year old tuxedo cat named Moonie.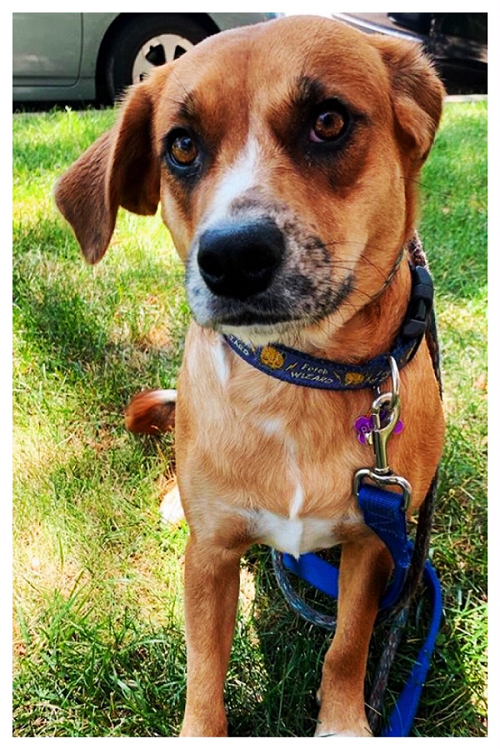 Q: What makes you smile?
Danni: My husband's "ornery face."
Q: What's your favorite movie?
Danni: This is a tough one – too many genres and stuff to choose from! But here are a few favorites off the top of my head: Up, Moana, Coco, Shawshank Redemption, Coming to America, and Captain Marvel.
Q: What's your favorite Chicago restaurant?
Danni: Taste of Peru up in Rogers Park – SO GOOD.
Q: What is your go-to karaoke song?
Danni: Bjork's "It's Oh So Quiet" – trust me, it's a fun one! 🙂
Q: What's your Harry Potter house?
Danni: Ravenclaw!
Q: What are 3 items on your bucket list?
Danni: 1. TRAVEL (travel, travel). 2. Write an original song. 3. Did I mention travel?